Finding a good team fit and better pay are twice as important as spending more time with family for higher education staff thinking about changing jobs.
The Future Campus 2023 Higher Education workforce survey found that 77% of the more than 3,000 respondents said they would consider changing jobs over the next 18 months and the key factors that staff would motivate staff to jump ship were good team fit, Better pay, greater recognition, job security and clearer organisational goals.
A good team fit was listed as a priority for 39% of respondents compared to just 18% who hoped to see more of their family as a result of their next job move.
Whether staff feel they have seen enough of their family as the world emerges from COVID lockdowns is not clear. Working from home was cited by many as a valued attribute in a job, but others hoped to see less working from home, with one respondent, saying they would change jobs for a workplace with, 'Colleagues on campus with me at least 3 days a week.'
Fig 1: Reasons to move jobs (% of all respondents)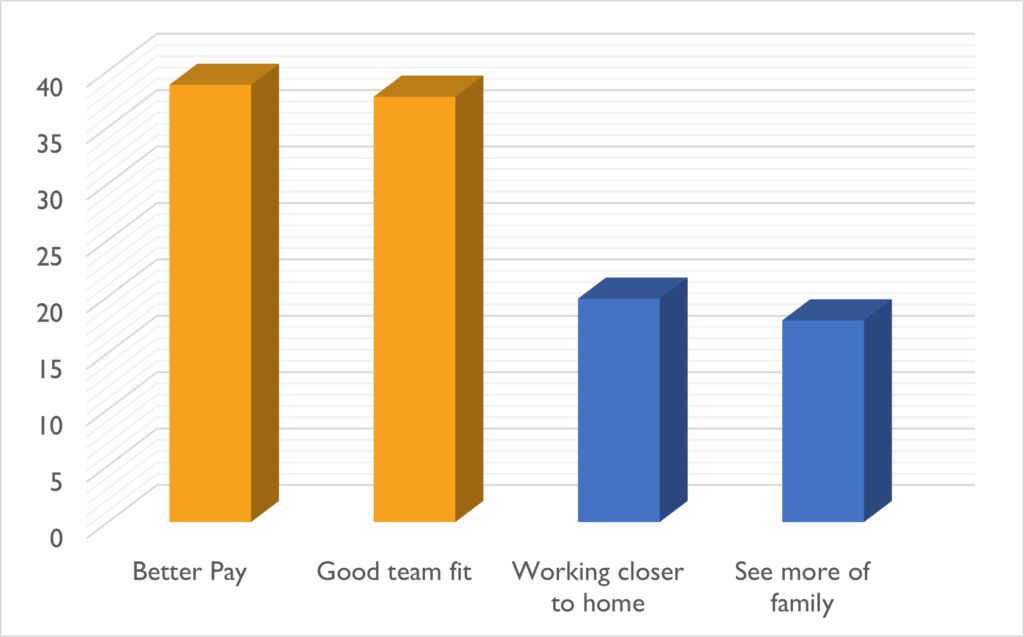 Interestingly, there was a significant disparity between male and female respondents in valuing the importance of team fit, with 50% more female respondents seeking a good team fit compared males. In addition, 39% of females said better pay would be a key factor in the decision to move, compared to 32% of males.
Fig 2: Top six reasons to move (Female vs Male respondents)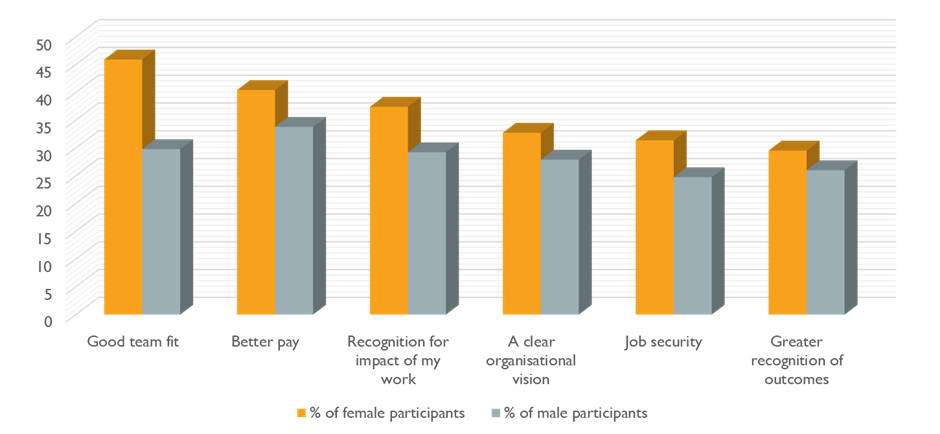 The study compared staff of different ages, roles and seniority but the largest disparities in attitudes were found between genders. While the survey asked respondents to nominate if they were male, female or non-binary, there were insufficient responses for non-binary staff to analyse results, so analysis of gender differences was confined to male and female staff.
While the drivers of motivation and consideration of changing jobs differed significantly between genders, the issues raised followed some consistent themes across gender divides.
Most of the issues cited as a reason to move revolved around the team that staff find themselves placed in – workload, toxic culture and management issues, lack of recognition and transparency in promotion and reward.
The issues that arose repeatedly in terms of the wider organisation were the clarity / strategic value of leadership vision and bureaucracy.
Peering in between the responses from thousands of staff, some clear patterns emerge. The themes of team fit, workplace toxicity and recognition paint a collective picture of poorly-managed teams at risk of losing staff and/or sub-par performance as a result of their culture. On a broader scale, as universities have stretched back towards regular activity, without always increasing staff numbers, or worse, while introducing systems that appear to make things more complicated, there are frequent issues with staff uncertain of how they can cope with spiralling workloads, seeking certainty of strategic direction so that there appears to be a prospect of a levelling out of workload demands in future.
This is not just a call for less work – the issue that stood out most strongly by far is the inadequate management of workloads. New workload calculators perceived as onerous and unfair. A loss of professional staff from teams, leaving academic staff to pick up additional administrative work. Also a lack of clarity over how long this period of change must continue.
A number of key insights stood out from the research:
Workload calculation
Paired with concerns about lack of recognition, concerns over workload and workload management came through strongly in the survey.
Participants raised concerns about workload calculators, lack of consultation in workforce planning and excessive expectations of hours, which had extended way beyond the covenant of goodwill between staff and their institution.
Toxicity
While the majority of respondents did not identify as seeking to work with 'nicer' people, there was widespread evidence of cultural issues in numerous teams. Many staff who indicated they would move for better team fit also described their current workplace as toxic.
For example, respondents said they would move if they could have:
"confidence that it is a true bullying and harassment free environment"
"Senior managers with management skills"
"Absence of bullying, psychopaths and sycophancy."
"Less narcissist managers"
These issues typically appeared to relate to the respondent's work unit, rather than generalisations about the institution or the sector. While many staff indicated they were considering changing jobs, only 12% were adamant that they would be seeking roles outside of the sector.
Student focus
A strain of altruism still runs through the sector, but is more frequently overlooked for self-centred goals of pay, recognition and belonging.
A minority of staff noted that they had retained their love for the sector because they want to create a better world – in particular for students and they would move jobs if an institution could demonstrate they were delivering better outcomes for students.
Lack of professional development and pathways to promotion
Many participants expressed concerns about a lack of professional development, opaque promotional systems and a lack of opportunity to progress.
Participants mentioned they were seeking to 'learn something new', 'a new project' and 'opportunity to learn'. There was a theme of many staff feeling there was a lack of career pathways open to them, and too few opportunities for promotion.
Many participants expressed concerns about a lack of professional development, opaque promotional systems and a lack of opportunity to progress. Numerous professional staff said they felt like second class citizens in the sector and would move for greater respect and recognition
Architecture
Open Plan offices, the darling of University renovation teams until COVID-19 hit, was favoured because on paper it would encourage more efficient space usage and improved team communication and collaboration – but shared airspace and noisy desk partners have dismayed a proportion of staff who have returned to work on campus. The issues were summed up by one respondent who said, "Open Plan doesn't work in the digital age, when we are all expected to be conversing online simultaneously."