New research has revealed the unhappiest group of staff in Australian higher education.
Drawing on responses from more than 3,000 higher education staff, the Future Campus 2023 Workforce survey found that wellbeing was a critical factor in retaining staff and 78% of all staff believed that wellbeing was somewhat or extremely important to them.
While many reports have documented the challenges faced by sessional and casual staff as they try to make ends meet, and younger staff seeking pathways to promotion, the survey, conducted in April, found that the unhappiest staff in Australian higher education are in fact older female staff in senior, ongoing academic roles.
Just 1.2 per cent of women aged 55 and over in ongoing Level D or E roles rated their workplace wellbeing as outstanding while 53% rated it as poor or terrible.
In contrast, professional women 55+ were significantly happier – 43% rating their workplace wellbeing as good or outstanding and 36% rating it as poor or terrible.
Figure 1: How Female staff 55+ rate their workplace wellbeing
The findings underscore the importance of further research into understanding the motivation, performance and attrition issues within the higher education workforce.
Leading workforce researchers have indicated that far too little is currently known about the higher education workforce.
Figure 2: How important is wellbeing in your workplace?
Older staff were more inclined to believe that wellbeing was very important in their workplace – with 70 per cent of respondents aged 55 or older rating it as extremely important compared to just 44% of staff aged 18-34.
In contrast, just 1.5% of staff aged 55 or older said wellbeing was not at all or not very important, compared to 18% of those aged 18-34.
19 out of 20 Professional staff also rated wellbeing as somewhat or extremely important, compared to just 14 out of 20 academic staff.
Interestingly, there was little statistical difference between perceptions of wellbeing for sessional/contract staff when compared to those in ongoing roles. Male staff tended to perceive their workplace wellbeing as positive more frequently than female staff.
Figure 3: Gender differences in rating workplace wellbeing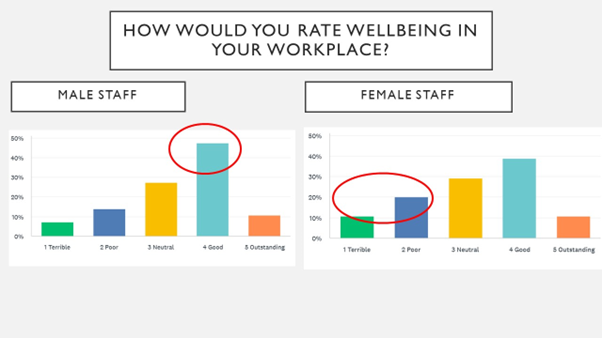 Staff raised a wealth of practical issues identifying how wellbeing could be improved. Key themes included:
Leadership
"Remove toxic leaders and develop positive, clear and effective leadership"
"Transparency, Less red tape, More people willing to make a decision."
"Improve communication"
"Having a head of school that wasn't such an arsehole."
Workload /role
"Only I can do that. Better boundaries, less after hours work."
"Recognition and transparency in promotion"
Culture
"For senior academics to accept that we wont go back to a world pre-Dawkins"
"Cultural change – less favouritism and more recognition, trust."
"Less micromanagement"
"Step away from the inbox!"
Work spaces
"More people on campus, it's like a ghost town."
"Sounds silly, but more comfortable spaces to work in."
"3 days WFH (working from home) instead of 2"
Health
"More free or cheap exercise opportunities"
For more information about the Future Campus 2023 workforce report contact Tim Winkler tim@futurecampus.com.au